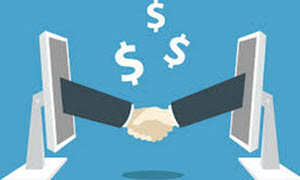 Peer-to-peer lending is the practice of lending money to individuals ("peers"). Typically, the term is used when lender and borrower doesn't know each other. There are several sites that facilitates peer-to-peer lending online through various platforms that connects lenders with borrowers.
Peer-to-peer lending is abbreviated P2PL or P2P lending.
Peer-to-peer loans
Peer-to-peer loans are typically unsecured personal loans not protected by government insurance.
On most P2PL platforms, prospective lenders will "compete" for borrowers using a reverse auction model for interest rates.
Lenders can mitigate default risk by being careful about which peers they lend money to and by diversifying and lending small amounts to many borrowers rather than one large amount to a single borrower.
P2PL sites will usually operate on a business model where they collect a one-time fee from the borrower when the borrower receives a loan. Some P2PL sites supplement this income with auxiliary businesses, e.g. offering credit checks.
P2P loans can be sold as securities.
Most P2PL sites will take care of the administration of the loan, e.g. forwarding money from the lender to the borrower and forwarding payments from the borrower to the lender. They may also verify borrower identity, verify borrower employment and income, verify that the bank account belongs to the borrower, etc.
History
One of the first companies to offer P2PL online was Zopa, a company focusing on the UK market. Zopa was launched in 2005.
One of the pioneers on the United States market was Prosper, launched in 2006. Prosper was quickly followed by Lending Club.
The first P2PL site for the Swedish market was Trustbuddy, launched in 2007. The loans were limited to a minimum of 500 SEK and a maximum of 10,000 SEK. You can read a good article about Trustbuddy by visiting microlån.org. A Swedish website about microloans and p2p lending. Use google translate if you do not speak Swedish. The provide a decent translation that is not too hard to understand.
In 2009, United States-based Zidisha began linking lenders and borrowers across international borders.
RateSetter, launched in the UK in 2010, was the first P2PL online that set up a provision fund to protect lenders against defaulting borrowers.
In May 2012, the UK government pledged to invest £100 million in small businesses through alternative lending channels, including P2PL sites.
In 2013, student lender SoFi announced a deal with Barclays and Morgan Stanley to create a bond backed by P2P student loans.
The P2PL site Lendico launched in Germany in 2013. It has since then expanded to Austria, Poland, the Netherlands, Spain and South Africa.
WeLab Holdings became the first online P2PL focusing on Hong Kong.
In New Zealand, legal provisions allowing for P2PL came into force in 2014. The first P2PL service license was granted to Harmoney in July 2014.
In 2014, several P2PL sites were launched in Israel. The first one was eLoan.co.il.